Motion Control Simplified
Simple to install, configure, and use, the InoDrive + InoWorx system allows you to program, and control one or more brushless DC servomotors over an Ethernet network with a highest degree of accuracy and precision. The drive effortlessly controls servomotors up to 400 watts with exceptional precision and performance, utilizing Ino-Sync™ for multi-axis, coordinated motion.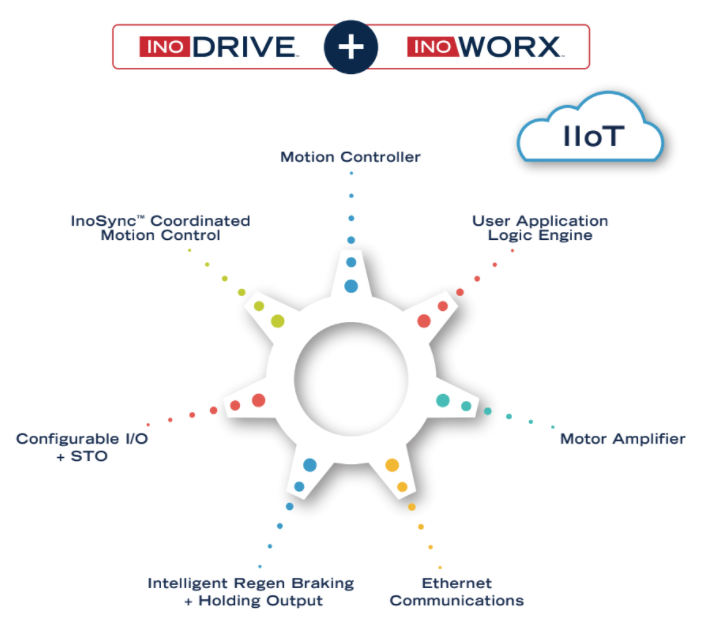 MODERN SOLUTIONS FOR MODERN ENGINEERS™
When compared to traditional motion control architectures, InoDrive + InoWorx eliminates stand alone control panels, PLCs and expensive software licenses in many cases, providing a new and modern approach to motion control with a simple and intuitive web IDE - coupled to a series of powerful motion modules.
Each InoDrive module features a built-in web server for diagnostics and a full set of libraries such as Python, Javascript, and .net APIs. This modern approach gives you a powerful set of tools to connect and communicate via PCs, SBCs, and other new-age cloud-based technologies.
Features
- High-speed precision control of servo motors up to 400 watts for 12/24/36/48 V systems.

- Multi-axes control with safe torque off (STO).

- Coordinated axis control via InoSync over standard Ethernet network.

- Time stamped coordinated motion.

- IIoT capabilities (MQTT).

- Web socket and API driven. Compatible with Raspberry Pi, Arduino, ROCKPro 64, and more.

- Well suited to robotics and drones, mobile  application, military applications, battery applications, pharmaceuticals, semiconductors, and packaging equipment.